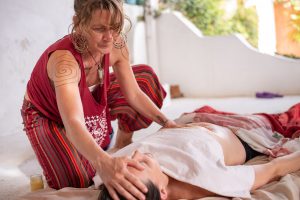 The Maya Abdominal Massage is a technique of abdominal bodywork, which is an external non-invasive manipulation that repositions internal organs that have shifted, thereby restricting the flow of blood, lymph, nerve and chi. It is a treatment that is widely practiced among the Curanderos (healers) and Midwives of Belize, Guatemala and Mexico.
The Maya Abdominal Massage addressees the position and health of the pelvic and abdominal organs. The work is best known for the correction of the prolapsed, fallen, or tilted uterus and for the prevention and treatment of benign prostate enlargement in men, and for relief of many common digestive disorders.
I had the privilege of being able to study and learn the Maya Abdominal Massage with Maria Eugenia Gobbato and Dona Dominga at San Marcos Atitlan, Guatemala.
A personal note
I received my first abdominal massage in a temazcal (a type of low heat sweat lodge). The massage was built up slowly. A warm herb bath turned into massage with the herbs, and when the heat and the touch relaxed my body and mind my teacher approached the abdominal area.
As we all store emotions in our body, we hold tremendous amount of buried memories in the abdominal region as well. I have to admit I do not even remember the physical part of the massage – but I found myself in a dark capsule taking me back in time experiencing all the emotions of past unresolved traumas. I had space to rage, to grief, to cry like never before.
I do not say all abdominal massage is so dramatic, but definitely could bring up some not healed emotions.
The abdominal region (where the first three chakras are located) is a powerhouse of energy. Reconnecting with the source of our being, of who we are, what we're capable of and the gift of being a human can change our lives on a grand scale.
Benefits of Maya abdominal massage
It can help address a myriad of issues, ranging from infertility to digestive discomfort to C-section and hysterectomy recovery. The massage helps align the internal abdominal organs so as the energy starts to flow freely again it supports the body's self-healing capacity.
If you answer YES for any of these questions you might greatly benefit from receiving this massage:
For Men & Women
Have you had trouble with fertility?
Do you have any abdominal scars from past surgeries?
Do you suffer from digestive issues like IBS or Crohn's Disease or regular abdominal pain?
Have you had parasitic infections?
Are you thinking of or trying to conceive?
Does stress affect you mainly in digestive ways?
For Women
Have you had a C-section?
Have you had a hysterectomy?
Do you an irregular menstrual cycle or painful period?
Have you experienced past miscarriages?
Have you experienced cysts in your uterus or ovaries?
Have you been told that your uterus is "tilted" or prolapsed?
Have you suffered from endometriosis?
For Men
Do you have an enlarged prostate?
Are you looking for sperm support (count, mobility, etc.)?
Optional additional offering before the massage:
herbal yoni / pelvic floor steam
During the steaming you are sitting on a 'mini throne' / a chair with a hole on it above a warm herb bath. (Not piping hot as the aim is not to burn your private parts.) Your body is wrapped into blanket. The warmth helps to relax the muscles, stimulates circulation to the pelvis, to nourish and heal the tissues.
During the steaming you can sing, chanting a mantra, listening music or just be in silence and meditate. Take it as a tool of your inner journey, of your healing.
The effect of the steaming is very personal: you may feel bliss, might getting emotional, cry, want to sing or feeling sexual arousal. Whatever stories, emotions are held, stored down there, might appear.
In a long term (not after one session), as it is a self-caring tool, it can bring physical healing – reducing menstrual cramp, regulating menstruation, helping with fertility problems, endometriosis, pelvis tension.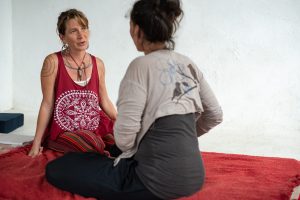 PLEASE DO NOT BOOK THESE SESSIONS IF YOU ARE
pregnant
on your moon days
have cancer
have IUD
had any recent abdominal surgery or you were giving birth