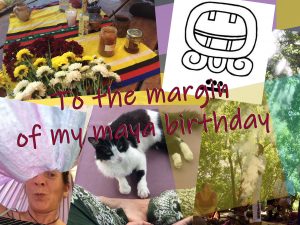 8 AJ
 – To the margin of my maya birthday –
 Meaning of AJ: home, spinal column, sugar cane, corn, sweetness, community
I'm sitting on the floor. I do imagine that through my fingertips (which are connected to the earth), my bum, my legs I am growing roots towards the centre of the Earth. I visualise as my roots are going deeper and deeper until they reach the huge, red heart of Pachamama, Mother Earth. I connect to her. Private matrix. And I am allowing the red colour – the feeling of love, care, home – to slowly creep up to reach my body, mind and heart. I am sitting in a red egg. I am at home.
Does it sounds sci-fi? That is the way I space-shipping inward day by day.
…
15 years ago I left the place my ID-s stating as the place of my birth, my home. Which was always uncomfortable somehow, always made me feel itchy. I felt as a UFO in my body, in my family, in my country. I behaved in a way I assumed it is appropriate in every situation. And others might have thought about me I am a good student, as I was good enough learning all the lessons from my parents, friends, society, I knew, one day I will fail. And it gets revealed: it is not me. This is not my world.
My second home country, which was very generous with me is behind me as well.
But on my journey I realised I am not the only being who is nagging the universe – 'tell me where is MY home please'?
…
I am sitting in the red egg. Little chick. I am content. I have no name, no gender, there is no world around me. Only warmth, safety. Red existence. Home feeling.
…
It said – and I believe in it – my thoughts are equal my reality. If I have enough negative thoughts I can create any illness to myself. (Fact: big percentage of the physical issues is psychosomatic.) If I accept this thesis, the next question is popping up: why do I not use this endless power to create some magic instead?
I do create. I do sit in the safe, loving, red egg. I am at home. I imagine. I do feel it. I am overwriting my base program. Self-hacking. So that one day I do not need to close my eyes anymore if I want to feel all of these. Because it won't be a dream only, a vision. But reality. My reality.
…
The question and the answer are the two sides of the same coin. If one day I will feel at home inside of me, the question will disappear as an independent entity. It will get merged with the answer. And I will throw this two sided coin into the slot-machine of the universe, and will live the life it presents to me anywhere on this globe. Until one day my 'me' will disappear suddenly as well.
…   …   …  …   …    HUNGARIAN VERSION   …   …   …   …
8 AJ
 – A maya naptár szerinti születésnapom margójára –
AJ jelentése: otthon, gerincoszlop, cukornád, kukorica, édesség, közösség
Ülök a földön. Elképzelem, hogy ujjhegyeimen (mik érintik a padlót), fenekemen, lábaimon keresztül gyökereket növesztek a Föld középpontja felé. Gondolatban haladok mélyebbre és mélyebbre, míg elképzelt gyökereim elérik a Föld középpontjában rejtőző hatalmas vörös szívet, Földanya szívét. Rácsatlakozom. Privát mátrix. Hagyom, hogy a vörös szín – a szeretet, törődés, otthon levés érzése – lassan felkússzon lényemig és betöltse testem, elmém, lelkem minden zugát. Ülök a vörös tojásban. Otthon vagyok.
Ez így elég sci-fin hangzik? Pedig egy ideje így űrhajózom befelé (Ezt loptam. Eredeti by Peer Krisztián) napra nap?
…
15 éve elhagytam a helyet, ami az okmányaim szerint a születésem helye, az otthon. Ami mindig nyomott, szorított valahol. Ufo voltam a testemben, a családomban, a hazámban. Úgy viselkedtem ahogy azt gondoltam, az adott szituációnak megfelelő. S bár úgy tűnhetett, jó tanuló voltam – hisz elég jól elsajatítottam a földi élet sok kis titkát szülőktől, barátoktól, társadalomról, éreztem, egy nap le fogok bukni. Egy nap majd kiderül, ez nem én vagyok. Ez nem az én valóságom.
Az új haza, ami nagyon bőkezű volt velem, mára szintén mögöttem van.
Utam során tapasztaltam, nem az egyetlen lény vagyok, ki faggatja az univerzumot, hol is van az az OTTHON?
…
Ülök a vörös tojásban. Kiscsibe. Jól vagyok. Nincs nevem, nincs nemem, nincs a világ köröttem. Csak meleg van, biztonság, vörös levés. Otthon érzés.
…
Mondják – és hiszem – amit gondolok, az a valóság. Az én valóságom. Ha elég sok kellemetlen gondolatot engedek meg magamnak, akár betegséget is tudok gyártani. (Tény: a betegségek nagy százaléka pszichoszomatikus.) Ha e tételt elfogadom, adódik a kérdés, miért nem használom ezt a végtelen erőt csoda teremtésére?
Teremtek. Ülök a biztonságos, meleg, szerető vörös tojásban. Otthon vagyok. Elképzelem. Érzem. Írom át az alapprogramot. Ön-hackelek. Hogy egy nap majd, ha tapasztalni akarom mindezt, ne kelljen becsuknom a szemem. Hogy ami most még vágykép, látomás, egy nap 'A' valóság lehessen.
…
A kérdés és a válasz ugyanazon érem két oldala. Ha egyszer bent végleg hazatalálok, megszűnik a kérdés önálló lényként létezni. Egybekel a válasszal. Én meg bedobom az érmét az univerzum nagy játékgépébe, és boldogan élem a dobott életet bárhol itt a Földön. Míg egy nap én is el nem tűnök hirtelen. (Loptam. Eredeti: József Attila.)